Shopping Cart
Your Cart is Empty
There was an error with PayPal
Click here to try again
Thank you for your business!
You should be receiving an order confirmation from Paypal shortly.
Exit Shopping Cart
379 Trapelo Rd Belmont, MA 02478
Phone: 617-484-3363


Hi all, I hope every one is enjoying the Spring season. I finally got a long needed new awning for the store with a ORIENTAL RUGS written on it. Everybody with whom I spoke to loves it. I guess the next thing will be to re-do the window signs. I would like it to say what I do, like Oriental Rug Repair, Oriental Rug Cleaning, Oriental Rug Appraisal and Oriental Rug Sales. Any ideas? Please write to me with your suggestions. Thanks for visiting my website.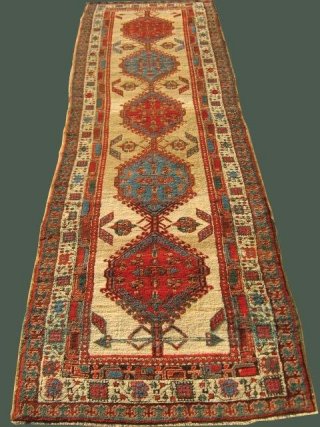 This North West Antique Persian Runner is made in an area in Azerbaijan Province of Iran. It has very pleasing colors as well as a camel ground. it also is in a great condition. These type Persian Rugs are magnificent. The quality of wool, Dye stuff and weaving technique is superior. There have been copies of this type rugs by other Hand Made Carpet nations. This one is a Genuine Persian Rug. For more information on this runner please contact us and we'll get back to you promptly. Thank You!
Hi Folks,
I think the following list of towns in Iran will help to identify a Persian Rug when you see one. So Next time you hear a name you'll know what and where it was made. I like to do this in alphabetic order so it could be used  as a source. So here we go identifying most towns in Iran that produces genuine Persian Rug.
Abadeh
Arak
Ardebil
Azarbaijan
Baluchistan
Bijar
Birjand
Esfahan
Feraghan
Hamadan
Heriz
Joshagan
Kashan
Khorasan
Kirman
Kirmanshah
Kurdistan
Lurestan
Malayer
Mashad
Nain
Qum
Sarough
Senneh
Seraband
Shiraz
Tabriz
Tehran-If you have one I"ll be happy to look at it and perhaps purchase it from you.

Yazd
All these cities also have sub groups or surrounding towns that produce Persian Carpets. There are too many to name. Among these cities and towns there are neighborhoods that produce Hand Woven Rugs. Some of them are more popular than the others but this unfortunately hasn't been know in the western market. Prices of these Hand Knotted Carpets vary from one neighborhood to another. Thank You for looking at my site. I'll be writhing more on this subject in my future blogs. I'll try to talk about every one of these areas of Rug Weaving of Iran.

The art of rug weaving began B.C. according to many researchers. The actual time period is not known. There are many speculations but that's all they are "speculations". How, when and where rug weaving began is one of many questions that we will eventually answer.  I don't think we'll have that answer in my life time unless our bright scientists invent a "TIME MACHINE". Meanwhile we can entertain ourselves with many different versions by different people.

One thing we know  is that the Persians(Iranians) rulers encouraged this art and by 11th and 12th century the carpet weaving craft was well refined by Persian Weavers. The mongol invasion brought a swift downfall and during Middle Ages, Persian Carpets or Persian Rugs reverted to being crude works of simple designs.

For two hundred years Persian Carpet weaving suffered because of the conquerors. Shah Ismail the first ruler of Safavid  Dynasty revived the art around 1500AD. He gathered the greatest painters of his kingdom to create new patterns/designs. He then joined them with the master weavers to bring about the great Persian Carpet reformation.  He certainly loved this art and he saw its importance culturally, economically and socially.

The carpet weavers at the Safavid court were centrally located between the weavers from the court of Great Moghul to the east and weavers from the Ottoman Court to the west. This gave the Persian weavers an advantage to interact with weavers from both sides. The result was magnificent. It was because of this interaction that the Persians  created some of the most splendid carpets/rugs ever produced. There are no dispute among the experts that this time the 16th century was the golden age of carpets. The great quantity of rugs woven during this time period was shipped to Egypt, North Africa, Spain, Venice, Netherlands, France, Austria, India, Turkistan and China.
Every good thing will eventually come to an end. The Persian culture declined in the latter part of the 17th century because of the death of Shah Abbas and the Afghan invasions. The capital Esfahan was completely destroyed and with it the carpet industry as well.
By early 19th century Esfahan was rebuilt and the carpet weavers came under the patronage of the affluent merchants from Teheran, Tabriz and Kerman. The effort to revive rug weaning was fruitful and once again carpet weaving became Persia's major industry and export earner.
After WWI Persian carpet industry continued to flourish. The Persian Rug industry has been suffering again within past decades because of slew of "COPIES" from other rug weaving parts of the world but the production is continuing. The Persians and Persian Rugs have past the test of time and I predict that in the future they once again overcome all odds.

If I may conclude this with a word of advise. If you are buying a rug for your home, don't buy a "COPY". Please invest your hard earned money in a genuine Persian Rug made by a hard working talented weaver from Iran. Don't get fooled by terms such as Persian Style, Oriental Style, Hand Made Persian Design.......
Real Persian Rugs are only made in Iran any other is just an imitation and they don't deserve the high prices that are being sold for in today's market. Please call me if you have any questions. I provide museum quality Oriental Rug Cleaning, Oriental Rug Repair as well as Antique Rug Restoration and Rug Preservation.
I hope this was helpful! 

SPECIALIZING IN ANTIQUE ORIENTAL RUG RESTORATION
/